New in November 2017 to the Top End Campgear Firepit Range is the Aussie Bush Microwave.
Compact and Collapsible, the purpose built Aussie Bush Microwave is portable and with the many accessories becomes a versatile companion to cooking around the campfire.  When dinner preparation is over, the Aussie Bush Microwave doubles as a fire pit.  Sit back, relax and digest around the Bush Microwave!
Supplied as flat panels which quickly and simply slot together to form the body of the cooking chamber.
For general cooking the unit is designed for coals to be placed in the cooking chamber or body of the unit (or you could start a fire and wait for the coals), then food is cooked either with in the coals such as for foil wrapped damper or baked spuds, or over the coals either on the BBQ Plate, in the wire grill basket or on a spit.  Your own cooking pots can also be placed over the coals, it's up to you how you choose to adapt the Bush Microwave.
Bush Microwave with the BBQ Plate
Bush Microwave with chops cooking in the Grill Basket
Bush Microwave showing the Spit Kit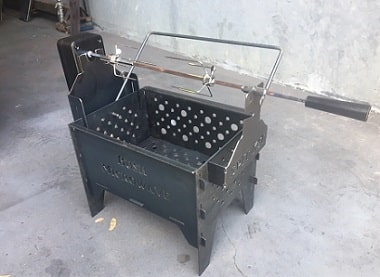 Or if you have your own pot that fits on the top you can cook your stew or paella!  Now that's versatile.
Baking in the Coals
Relax around the Bush Microwave Fire Pit
To find out more about the Aussie Bush Microwave contact the crew at Top End Campgear here