by Jim Crawford
About 40 years ago Keith "Monty" Weeding worked for the Department of Main Roads at Wentworth in south western NSW. One of the jobs Monty did was grader driving, maintaining the gravel roads around Wentworth and as far away as Ivanhoe and Wilcannia. When he was out on the job miles from home he had to camp on the side of the road that he was grading, and consequently had to cook for himself.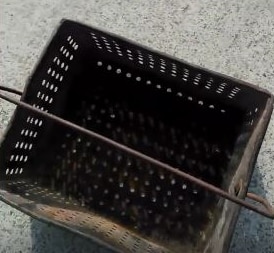 Being resourceful comes naturally to people living in the bush, and Monty was no exception.  Along the Murray, in the grape growing areas, old "dip- tins" were plentiful. These were galvanised steel containers that were used to pick grapes into, so they could be dipped into an emulsion before they were dried to become sultanas and raisins. They were a rectangular, with an open top. They were fitted with a handle to lift them, and had dozens of  holes in all the sides to allow the liquid to drain quickly.
Monty saw the potential in these "dip-tins" for a camp stove, sitting them up on a couple of rocks.  He kept one in an old potato bag on the grader for his trips out bush.
He would light a fire beside the road and throw a couple of logs on it before going off grading. When he got back there would be a good bed of coals in the fire. He then put a shovel full of coals in the dip tin, which would liven up due to all the holes allowing the air to circulate. He then grilled or re heated  his meat on top of it in a mesh basket with the juice dripping off onto the coals, smoking the meat. Delicious! Monty Christened his dip tin the "Bush Microwave" and the name stuck.
Monty has gone now, but through his son-in-law Ron Smith the "Bush Microwave" lives on.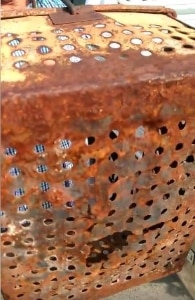 I met Ron at Ag-Quip at Gunnedah. He came to see me carrying a bag with something interesting in it. When he tipped it out on the ground there was an old "dip-tin" looking a bit the worse for wear.
Ron is one of those unfortunate blokes who spends about half of his life camping on river banks in the course of his work, and this dip-tin had seen plenty of campfires! The bottom was just about rusted through, and the whole thing looked tired. Ron asked me about the possibility of making one out of something a bit more substantial than the original thin metal and I agreed to have a think about it. He also told me the story about Monty. This project interested me because I have spent most of my life lighting fires on the side of the road too!
The "Bush Microwave" that we have now is the result of that chance meeting. Over a couple of months and with the involvement of about half a dozen of us we have come up with what we reckon is the ultimate "Bush Microwave".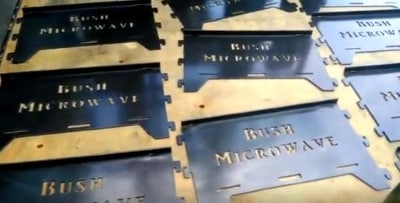 I did initial drawings on the back of an envelope,  my son Daniel did proper drawings  and  Luke edited them in our workshop , Janet made a few suggestions and with guidance and direction from Ron, and  ideas flying thick and fast, we had half a dozen superseded models in one day. Half a scrap bin full of the rejected ideas; then prototypes were ready to be sent to Ron for testing.
The result; A collapsible, camp stove with a grill basket, a barbecue plate, a rotisserie, bars to support a billy, frying pan  or camp oven, and a tray to catch the ashes, and a hood for roasting with the choice of long or short legs. All made from  Aussie steel, based on the original size and shape of the old "dip tin". All except the hood flat packs and fits into a canvas bag (less than half the size of the original potato bag!) and all up weighs in at around 16 kg.
We've kept the "Bush Microwave" name in honor of Monty. We think he would have liked it.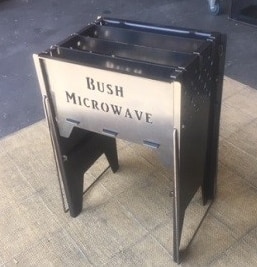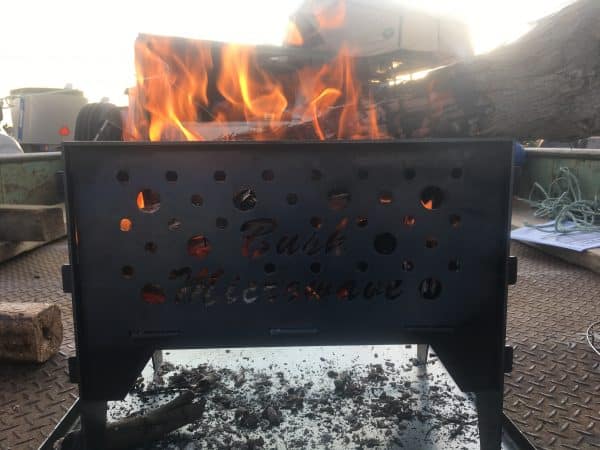 More about The Bush Microwave click here
Pricing information click here